---
Horny Mother Seduces Sexy Son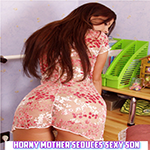 Relax and let your mind wander  As I lead you Into this erotic forbidden fantasy. Enjoy my taboo Horny Mother sexy son roleplay. Get lost in fantasy as I become the passionate mother you have always desired.  A beautiful mom who is hungry & sex-starved for cock. You the son all grown up who takes mother all for yourself.  Forcing the mother to admit her desires.
Imagine closing your eyes and stroking your cock  to my voice.  Your horny mother purring passionately in your ear. Sweet breathy moans as you take me over and over.  Forcing me to see what you have always known.  Of course, I want you. Your cock is so big and hard. I might fight it at first but of course, I give in to my forbidden dark desires.
You will want to purchase this 5-minute audio file for only- $10. As you buy your Mp3 audio file  it's yours to download and listen to as much as you want. Upload it to your personal audio device of choice & listen to it again and again. When your ready for more of mothers hot wet cunt give me a call.
Buy my MP3 Now! Then lets enjoy a live mother/son fantasy phone session together once your all warmed up & Ready to fuck mommy on the phone. Mommy is sex starved for her sons hard young cock! Fill my need for cock milk! Click the link below…Mother is waiting!