Phone Sex Deals
New Story Special Available for a limited time.
Buy two customized stories get one free that's 3 long emailed stories for $100.
Each story comes with 6 free pictures.
I pick the pictures & you pick the story topics.
All of my stories are one of a kind  creations made for you and tailored to your tastes.
Feel free to purchase my stories over the phone or online at https://www.webtokens.biz/DigitalEroticaSuperStore/downloads/personalized-erotic-stories-by-victoria/
This story is a typed creation. Pictures & stories are delivered via email.  Must buy 2 stories at full price to get one free. No limit on this special.  please give at least 3 days- a week for your original story to be written. Stories are several thousand words. Created with your personal tastes, requests and preferences.
Can't wait to get your hands on my pictures & magic slide(moving sexy gif)? Get them at the link below! https://victoriaforphonesex.com/my-online-store/picture-sets/
…………………………………………………………………………………………………………………………………………….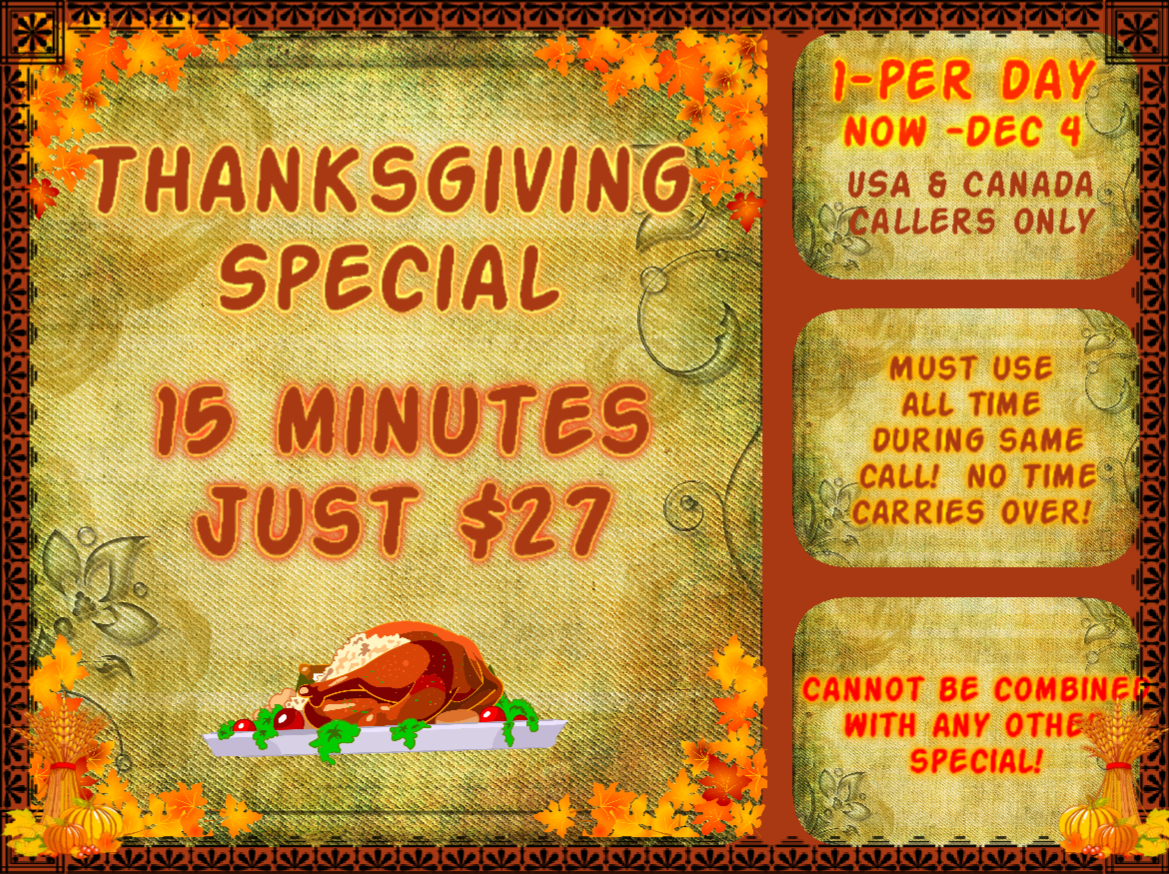 *Cannot be combined with any other special. *Available for a limited time Now-Dec 4th. *Free picture is a surprise picture of my choice via email.  *USA/Canada callers only. Must be able to receive a call back from a private or blocked number. *Must use all time during the same call. *no time carries over. *one per gentlemen per day.
*My girlfriends also offer this special Click the link to enjoy this special with my hot kinky girlfriends!  https://atozphonesex.com/
…………………………………………………………………………………………………………………………………………….
​When your wife is away lets hook up and play!  I always say yes when she says no.
Let me fulfill all your forbidden phone sex fantasies. Get your self something nice !
You worked hard. You deserve something sweet!  Get My Phone Sex Deals Today!          Call me now I am hot and ready for your call.
Free 5 minutes phone sex
New callers enjoy 5 free minutes of phone sex with the purchase of 10 minutes or more. Must be used during same call. No time carries over. New callers only.
---
​ Specials cannot be combined. One special per lover  unless otherwise specified.  New caller special with 5 free minutes is for brand new callers .  All specials are  for callers in the USA and Canada  Who can accept  a call back from a private or blocked number. international calls or callers who cannot accept a call back are $2.50 a minute with a 5 minimum.